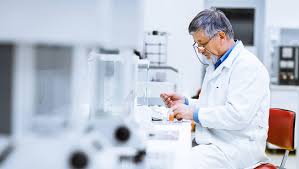 Dalhousie University and Memorial University of Newfoundland are at the forefront of a new national program to help researchers turn their discoveries into businesses.
They will be two of the three Canadian universities that will be piloting Lab2Market, a new pan-Canadian program based on successful programs in the U.S. and U.K. The program will work with PhD candidates and post-doctoral researchers to determine whether their scientific discoveries could be developed into startups.
Ryerson University in Toronto will hold the first cohort in April to May 2020, then there will be simultaneous programs in Halifax and St. John's next autumn. The Dalhousie program in Halifax will be a generalist stream while the MUN program in St. John's will focus on ocean technology. The three universities will repeat the cohorts – which are open to researchers from anywhere – in 2021.
"It is a pilot, but we hope it will be a national program going forward," said Jeff Larsen, Dalhousie's Executive Director of Innovation, Creativity and Entrepreneurship. "We've got this group of 13 universities, and we're working on a program similar to the way it's done in the U.S. and the U.K."
A statement from Lab2Market said about one-fifth of Canadian PhDs end up as professors, and many graduates have difficulty adjusting to the workforce. The goal of Lab2Market is to provide researchers with the entrepreneurial skills to make the transition and produce better innovation-based companies.
The methodology of the program was developed by the National Science Foundation in the U.S., which a few years ago decided that new theories in launching startups should be taught to researchers. The thinking is that scientists within universities and research institutions are making discoveries that could be commercialized and become the foundation of new companies. But they need to learn how to interview potential customers to determine whether their new technologies have commercial applications, then learn how to bring them to market.
Former Premier Gallant Continues Innovation Role at Ryerson
The NSF's I-Corps program in the U.S. and the I-Cure program in the U.K. use a process that will be the model for Lab2Market. It calls for each team to have three members – a researcher, a business development person, and a mentor (usually from industry). It provides these teams with enough funding that they can meet potential customers face-to-face, even if that involves travel for the interviews.
"As a university that supports entrepreneurship and innovation, Memorial has an active role in creating, growing and supporting companies through our internal ecosystem," said Paula Mendonça, acting director of Memorial's Technology Transfer and Commercialization Office. "Programs such as Lab2Market Oceans will develop highly skilled entrepreneurs in the ocean sector."
In Canada, 13 universities have come together to form I-INC, which will offer Lab2Market, with Ryerson, Dal and MUN conducting the two-year pilot. The other Atlantic Canadian members are the universities of New Brunswick and Prince Edward Island.
[UNB has also launched a similar program called I-Stem, also modeled on the I-Corps model. Its first cohort had its demo day on Nov. 21.]
Each cohort will consist of a rigorous three-day in-person training workshop, followed by six weekly online advising sessions that the participants join from their home institutions. "This will help provide the skills necessary to conduct more than 100 interviews with potential consumers and the support they need to evaluate the responses," said a statement from the Lab2Market team. The goal is to prepare the teams for more advanced programs, such as the Creative Destruction Lab.
Said Larsen: "What we're trying to do is create a bigger pipeline of great companies coming out of universities."