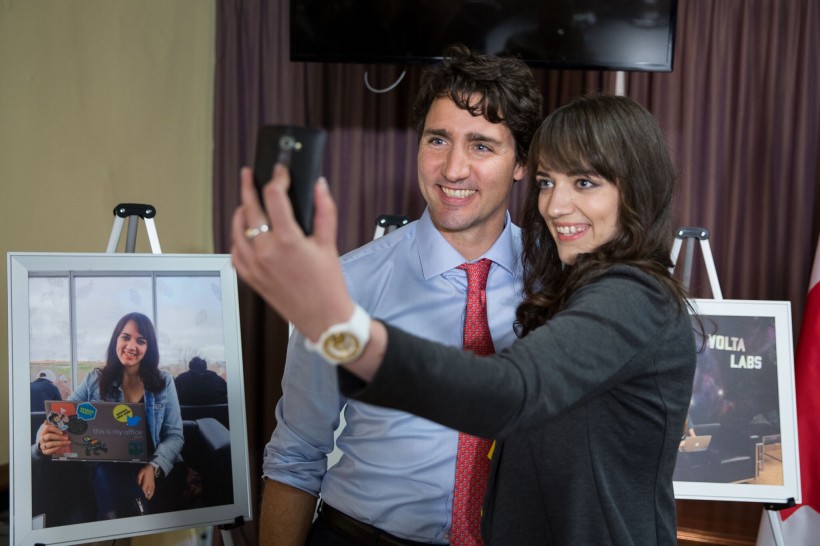 There can't be many technology blogs that also offer reviews of summer shoes and proclaim a girl's right to feel sexy, but Sage Franch is known for celebrating her love of tech and her femininity.
Franch, a.k.a. the Trendy Techie, is a computer programmer at Microsoft who volunteers her time to encourage other youth. Despite having only just graduated with her degree in computer science from Dalhousie University, she was recently one of eight young Canadians invited to meet the Prime Minister.
The subjects under discussion were issues that affect Canadian youth.
"The PM really listened to our views," she said. "I spoke to him about women in tech and the need for women to have male allies. I also spoke about closing the wage gap and computer science in schools.
"Computer science and creative technology are expensive. Only schools with lots of resources are teaching them, but everyone needs these skills nowadays. So we need to find ways to get resources to schools that are less fortunate."
She wants youth to get involved in tech as early as possible. (Tech education currently varies enormously across the country.)
"Kids can be introduced to coding at three or four. I've seen toddlers coding... Kids have innately logical brains. They understand the difference between true and false, they can learn these skills."
Despite being a new graduate, Franch has already spent a year working remotely for Microsoft. She is part of the company's learning experiences team, which creates training content.
Her involvement with the tech giant began when she was nominated to attend a week-long recruitment event at the company's Seattle offices.
Coding first excited her when she discovered it in Grade 10 while attending a computer graphics program at the University of Pennsylvania.
"The professor showed us a rendering of fire made from code," she said. "The code looked almost like a novel, or a script, then the fire burst to life on the screen. That was my spark. I realized I wanted to create from the back end — that was more like creating real things."
Alex Gillis and the Wisdom of Youth
She began her website, TrendyTechie.ca, three years ago after facing negative stereotypes about being a woman in tech.
"I was buying a laptop and the guy selling it said it was too powerful for my needs. I said I needed the laptop for augmented reality applications. He said, 'You look too pretty to code.'
"When I got home, I went online to see if there were blogs for girls who are not afraid to be pretty and who are into technology, girls who wear lipstick and code. I didn't find anything so decided to write such blogs myself."
Franch now has around 8,000 followers across various platforms.
She believes that young boys are encouraged to do math, but girls are not given the same encouragement.
"My role is to be voice for young women, to show what can happen if you pursue this."
Now, after five years in Halifax, she's moving back to her home town of Toronto where she'll continue to work remotely for Microsoft and support youth in tech.
She said that Dalhousie and Halifax have shaped her life.
"When I came here I'd never really done anything alone . . . Halifax felt like my training city . . . Halifax is a safe place for young people.
"Dal was intimate, I like that. The communication channels were open . . . .I knew my professors personally. They do a lot to foster a culture of respect and promote camaraderie."
Working remotely gives her the freedom to work and speak around the world.
Franch has been a speaker at high-profile events such as the Perimeter Institute's Inspiring Future Women in Science conference, the National Business in Technology Conference, ICTC's Digital Youth Summit, and YouthSpark Live.
"I want to live in a world where there's no stigmatization of women in tech," she said. "My goal to be part of that in some way."